Lisbon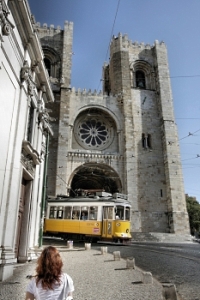 Lisbon (Portuguese: Lisboa) is the capital of Portugal. It is the westernmost city in continental Europe and approximately 600,000 people live in Lisbon.
Lisbon was founded over 20 centuries ago, built on hills along the north bank of the river Tagus, as it approaches the Atlantic ocean. Beyond the brightness characteristic of these latitudes, Lisbon has long benefits from plays on light and shadow.
Encouraged throughout centuries of architecture, this is reflected in the often extremely narrow streets winding their way up and down the riverfront hills, establishing the borders of historical neighbourhoods each with their respective traditions and styles. This game has been visually opened up by more modern architectural styles, lighter and designed for the broad sweep of the avenues, even while always remaining interlinked with the river.
Culturally, Lisbon has managed to maintain its character through this play on light and shadow. The recognition of a past replete with maritime history, opened to the World by the Voyages of Discovery, born witness to in its museums, monuments and traditions. And the present is marked by an equal openness to the 21st century world with contemporary museums, prominent cultural events and all the styles of a cosmopolitan city.
Useful links
Climate
In June, the average minimum temperature is 15 °C and the average maximum temperature is 25 °C. Rainfall is usually minimum, with an average precipitation below 16 mm.
General information
Language
Portuguese is Latin in origin and the third most widely spoken European language in the world. In Portugal itself a considerable number of people can understand and communicate in foreign languages.
Electricity
Voltage: 220/380 V at a frequency of 50 Hz. All sockets follow European standards. To use American-type plugs, a 220 V transformer should be used together with an adapter plug.
Currency
The unit of currency in Portugal is the Euro (sign: €; code: EUR).
Schedules
Opening hours in Portugal are similar to those in the rest of Europe.
The visitor has access to all normal services at any time of the day and on all days of the week.
Pharmacies keep the same opening hours as the rest of the shops but, in order to guarantee 24-hour service, some stay open after 7 p.m.
Generally speaking, restaurants are open for lunch from 12 mid-day to 3 p.m. and for dinner from 7 p.m. to 10 p.m.
Theatres and other shows usually start between 9 p.m. and 10 p.m.
Working hours
Buses: Every day - 24 hours.
Subway: Every day 6.30 a.m. - 1 a.m.
Banks: Mon.-Fri. 8.30 a.m. - 3 p.m.
Shopping Centres: Every day 10 a.m. - 12 midnight
Shops: Mon.-Fri. 9 a.m. - 1 p.m. and 3 p.m. - 7 p.m. ; Sat. 9 a.m. - 7 p.m.
Embassies: Mon.-Fri. 9 a.m. - 3 p.m.
Post Offices: Mon.-Fri. 8.30 a.m. - 6.30 p.m.
Pharmacies: Mon.-Fri. 9 a.m. - 1 p.m. and 3 p.m. - 7 p.m. Also: 24 hour (night) service
Meal times: Lunch: 12 mid-day - 2 p.m.
Dinner: 8 p.m. - 10 p.m.